Happy Halloween! We're beaming version 0.14 out to you with a super awesome Track Builder, a new achievement and a scarecrow collection minigame 🙂
In this update we are launching the revamped Track Builder which lets you build a wide range of tracks to suit any style of driving. To showcase the possibilities of the Track Builder we're also taking a trip back to the 80's with the new Light Runner map featuring several tracks built by the BeamNG dev team. In keeping with the neon glow feel of the map we are also including Powerglow skins for some vehicles so you can cruise this retro future vision in a matching car.
We're also celebrating the spookiest time of the year with a scarecrow hunt. This mod distributes 80 scarecrows throughout the maps for you to hunt down and collect. Note that this event is being released as a mod so you can control whether you want to participate or not. To get hunting and give the maps a Halloween look, all you have to do is install the mod, available to download ingame.
Revisit the neon-lit glory days of the 80's with the new Light Runner map, showcasing the capabilities of the Track Builder with some electric glow skins for selected vehicles

Our new Track Builder is launching with this update - From simple circuits to multi-level corkscrews leading into loop the loops, the only limit is your imagination!

T-series: You can now fit the T-series with a Car Hauler upfit, suitable for hauling vehicles and other large, bulky items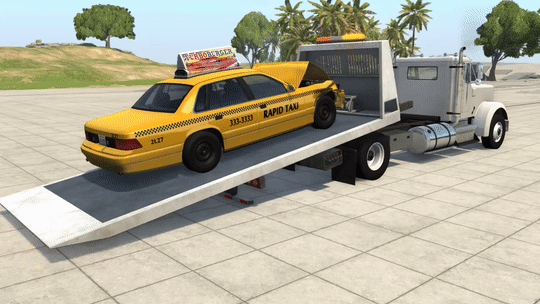 The following vehicles have had various improvements applied: Barstow, Burnside, Citybus, D-Series, ETK800, ETK-K, H-Series, Hopper, Moonhawk, Pigeon, Roamer, SBR4, Sunburst and T-Series
V8 Engine and transmission meshes for the D-series, H-series, Roamer and Grand Marshal have been fully re-modeled and textured
The Halloween scarecrow hunt is on - Search for the scarecrows scattered around the maps to earn a new achievement! You can get the mod to activate the hunt ingame here
Vehicle Additions, Improvements and Fixes
Added chainlink gate prop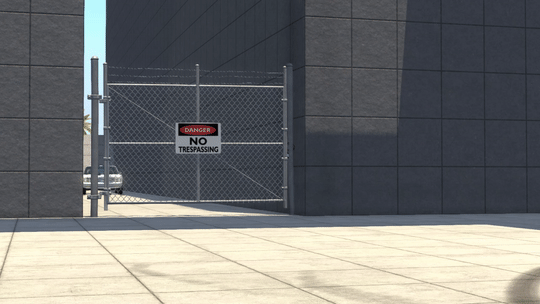 Added rotary steering actuators (using torsionHydro) to Barstow, Burnside, Miramar, Moonhawk. The new system better represents recirculating ball steering kinematics and countersteers faster with FFB wheels

Added improved anti-roll bars (using torsionBar) to 200BX, Barstow, Covet, ETK800, ETK-K, ETKI, Miramar, Moonhawk, Pessima, SBR4 and Sunburst (more vehicles are in progress)

Anti-roll bar stiffnesses are now properly matched to real life equivalent cars

Improved steering arm rigidity using torsionBar beams (currently only on cars with new sway bars, still work in progress)

Adjusted smaller wheel and tire widths to more accurate dimensions

Wheel axle node collision has been changed so wheels can now fall flat on the ground

The actual default configuration of the Pickup will now load if default is selected

T-series: Dump Bed, Cement Mixer and the new Car Hauler upfit now use the second color channel, allowing the upfit color to be different from the cab color

T-series: Frame torsional rigidity reduced, but bending rigidity increased using torsionBar beam

Barstow: Increased rigidity of front frame sections using torsionBar beam

Burnside: Increased rigidity of front frame sections using torsionBar beam, fixed some instability when using 15x8 Alder Basketweave wheels

Burnside: Fixed the hood lifting spring deforming on spawn as well as the issue causing the rear axle to sometimes be unstable with small wheel choices

Citybus: Shift point spacing widened

D-series, H-series, Roamer: Improved engine flexbodies and made SFA steering more durable. Fixed steering breaking easily when using independent front suspension with 8 lug hubs and fixed some parts deforming too easily from general driving

D-series, H-series, Roamer, Grand Marshal: new V8 engine and transmission meshes. Centrifugal supercharger changed to roots supercharger on Grand Marshal, to maintain consistency between vehicles using this engine

Hopper: Fixed issue causing the rear axle to be unstable with wheels spaced outwards

Pigeon: Added radiator nodes

Sunburst: Drift steering should now not break easily at full lock

ETK800, ETK-K: Changed shift point spacing on low gears to prevent loss of control when downshifting in corners

Moonhawk: Increased rigidity of front frame sections using torsionBar beam

Sunburst: Closer gear ratio spacing for Hillclimb config

SBR4: Wider bodywork for better proportions, closer gear ratio spacing for Hillclimb configuration and handling tweaked to suit new wider track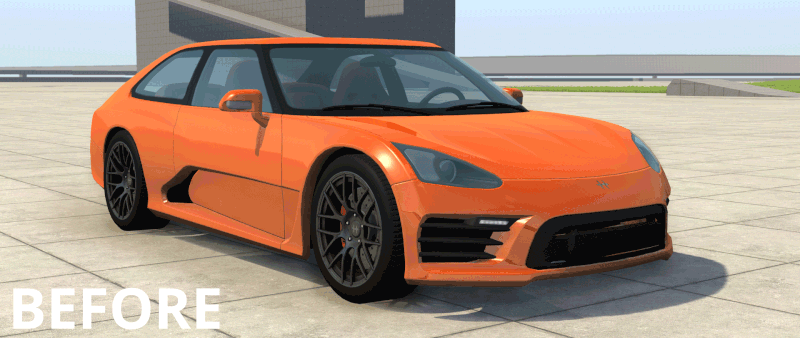 SBR4: Added a black & blue interior skin and made interior carpet a separate map for skinning

Tire textures have been improved to add symmetrical tread and move whitewall/lettering to the outside only

Made improvements to some lightbars' flares to avoid them leaking in the opposite direction

Updated Pickup 'Rusty' skin materials to make it blend better with the vehicle colour

Improvements to the 'Sawhorse' prop materials
Levels
Fixed some East Coast USA roads having wrong groundmodel assigned
Camera
Added new 'Driver' camera, featuring side-look and rear-look, as well as customizable settings: lock to horizon, inertia effect percentage, autocentering, FOV angle, per-vehicle seat position adjustment and tilt angle. This camera works as a replacement of the old "onboard.driver" camera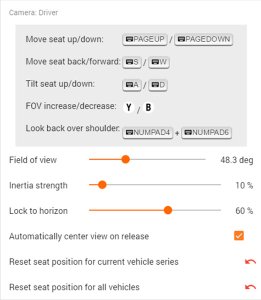 Added right mouse button support to 'Chase' camera
Fixed 'Top-Down' camera while paused
Fixed rare camera errors after reloading system Lua or when switching between vehicles with different available cameras
Fixed some camera rotation issues when simultaneously attempting to look left and right, or up and down (using keys)
Right mouse button now works correctly while F11 editor is open
Fixed an issue causing camera zoom speed to be too slow or too fast unless the button was lifted and pressed again
Physics
Added torsion bar support in physics core. This is a new physics entity that simulates rotational springs
Added torsion hydro support to simulate controllable rotational actuators
Added breakGroup support to couplers
Added planet gravity support. This simulates gravity both inside and outside a planet
Added "staticCollision" node attribute. Setting it to false disables collision of the node with static geometry (default is true)
Fixed "normalForce" attribute of particles to be positive (previously it was negative)
Fixed calculation of collision energy used to initiate fires
Added a new debug function to draw triangles (obj:drawNodeTriangle)
Added "beamstate.addPlanet", "beamstate.delPlanet" and "beamstate.setPlanets" functions to vehicle Lua
Added "thrusters.applyImpulseBody" function to vehicle Lua
Changed electrics.airspeed to be based on ground speed instead of airflow speed
Increased maximum nodes limit to 4000 (from 3000) and maximum beams limit to 20000 (from 15000)
Powertrain
Added "free-play" support to the friction clutch, increased holding torque by ~25% and improved the damping calculation
Reworked "vehicleController" to allow for more possible use cases outside of regular combustionEngine powertrain layouts
Tweaked shift logic for sequential transmissions to go through a tiny period of neutral state while switching gears
Implemented basic "Two-Step-Launch" logic
Fixed "smart" parkingbrake being stuck on from time to time
Fixed a bug where custom powertrain devices could overwrite default ones
Fixed ESC/TC staying in an incorrect state after disabling it
Audio
FMOD has been updated to V1.10.0
Rock surfaces have new surface sounds
The turbo audio mix has been given a balancing pass
The radiator damage sound has been replaced and radiator hiss sounds have been added
New suspension samples have been added for pickups, trucks, bus and semi
Replay cameras will now filter surface sounds based on distance filtering
Improved the ambient water sounds in Utah, East Coast and Jungle Rock maps
Volume and equaliser settings for group channels have received mix changes
The default game volume has been changed from 80 to 100, compensated for by decreasing the volume in FMOD
New default master volume in game audio settings
All glass impacts have been refactored into FMOD
Aero, Piano Crash and Suspension have been refactored into FMOD
Five music tracks in a 'Synthwave' style have been added for the Light Runner level
Tweaks to cabin view filtering with reduced high and low frequencies
Fixed skid sounds being triggered while inside heightmap holes
Gameplay
Included Light Runner game mode with several tracks and appropriately styled skins for Bolide, Moonhawk, 200BX and SBR4
"Teleport to checkpoint" now sets the direction of the vehicle either to the direction of the directional checkpoint or the velocity of the vehicle when entering the nondirectional checkpoint
Resolved an issue which would cause checkpoints to trigger late
Fixed some issues in the 'Port Escape' scenario
Force Feedback
High-Frequency smoother has been removed, as it is no longer necessary
Added new coefficient slider to improve generic self-centering
Simplified low speed force slider into a checkbox
Increased smoother setting range in Options > Controls > Force Feedback
Increased default force resolution when drivers don't provide this information (such as some direct drive wheels), potentially providing extra detail in those few cases
Small improvement of force feedback responce at higher framerates
Added new "Side Accel Feedback" slider. It allows emulation of sideways forces on the driver by passing them to the wheel
User Interface
Track Builder tracks can now have Preview images for time trials
New options for the Track Builder: custom materials, ground models, border shapes, walls and ceilings, obstacles and custom Checkpoints
Fixed extreme UI slowdowns while ForceFeedback Graph UI app was visible
Removed incorrect "Nm" unit from ForceFeedback Graph UI app
Rearranged Force Feedback settings page, fixed some alignment issues
Added key binding cheatsheets to Options > Camera menu
Deprecated 'Smart V-Sync' graphics setting
Implemented new groundmodel debug window
Updated thumbnails for some older scenarios
Fixed an issue that made the save dialog not show up for PostFx
Fixed in-game repository 'Discussion thread' button redirecting to a wrong thread if the mod does not have a discussion thread
Input
BeamNG.drive Remote controller V2 (Smartphone app) will now update its HUD regardless of whether Outgauge setting is enabled or not
XBox gamepad linearity default changed to a softer 2.5 value, for better control at high speeds
Lua
Added an 'onMouseLocked' camera callback, triggered when right mouse button is pressed or released (check its usage in the new 'driver' camera)
Added function to add a command to the queue of every object except those with id "exceptId" using BE:queueAllObjectLuaExcept( string command, int exceptId)
Commandhandler should now not repeat all commands when the Lua VM is reloaded
The Json parser has been optimized to be 30% faster
Added smootheststep Lua function
Game Engine
Improved the render interface for TrackBuilder meshes
Added support for decals on TrackBuilder meshes
Implemented new immediate GUI with multithreading support
Fixed shader issue when normalmaps are used with detail UVs
Loading PNGs with greyscale + alpha formats should now not cause crashes
Resolved issue causing rare crashes on vehicle deSpawn
Added support for progression in Steam Achievements
Reduced latency by 1 frame
Fixed issue causing crashes when loading invalid mesh cache files
Misc
A performance warning for drive space, cache folders and cloud storage has been added
Steam Rich Presence has been added to the game
Removed some unused / extra copies of some files
Tuned default graphical settings to be less heavy on Dynamic Reflections
Added 'Hay' and 'Confetti' particle effects
Known Issues
The setting file "base.ini" cannot be created if missing, Resulting in debug messages not being blacklisted by default
Italy - Progress reportIn parallel to the updates and improvements above we have continued to work on the Italy map, adding more buildings and towns, improving the detail of the urban and rural environments and of course giving you more roads to drive on. With Italy being the largest map we have ever added to the game there was always a risk that we would run into some performance issues and these have proven tough to resolve. However we are making good progress on that front and are confident we will soon have more news to share about when you can start exploring the Italian countryside in BeamNG.drive. In the meantime, here are a couple of images illustrating some of the changes and additions we have have made:
Some areas are still need work such as the industrial section and small harbour as well as some objects missing near streets: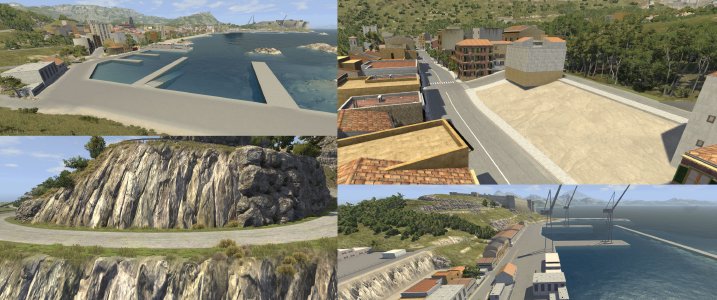 The mountain village, overlooking another town on the eastern side of the map:
An overview of the center of the island:
Italy contains a variety of different types of street, from fairly wide down to very narrow:
At 16 square kilometers it is big enough to fit West Coast USA, East Coast USA, Utah and Jungle Rock Island within it:
The main city in the north and the highway connecting the airport to the north-west and east coast:
It features many roads suitable for rally:
Instructions on how to update the game here.