We got a realistic automatic transmission implemented today 🙂 Manually shift through P R N D 2 1 and the car behaves just like a real one, creeping forward in D if you don't hold the brakes.
In other news, damn you Sam for placing a corner after a blind crest leading into a bridge >:(`` This happened:
He's making great progress on the East Coast map 🙂 It's a blast to drive; night and day difference compared to Dry Rock Island. The roads are smooth, fast, and tons of fun - it almost feels like a completely different game. I've still barely explored less than half of it (and he's not done adding roads :D)
You guys are in for a real treat. The map is gorgeous and there's so much of it you haven't seen yet.
I've also spent some time reconfiguring the Covet and its various parts. The new Covet Sport is now a realistic factory option. About 10 more horsepower than the stock Covet, stiffer suspension, new 16 inch wheels (you've probably seen them hiding in the .DAE), and nice sticky tires 🙂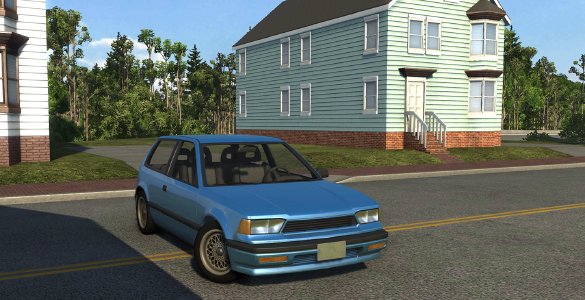 The old "Sport" is now called the Race, since it has a roll cage, and there's no way that'd be a factory option, nor would a turbo that adds 80 horsepower. Also it's only fitting that the "Race" update come with a "Race" version 😉
Still making good progress on the other planned features too 🙂 Squashing bugs and whatnot. Development moves forward.